Advocate. Connect. Elevate.
The Iowa Biotechnology Association (IowaBio), a 501(c)6 non-profit trade association, was founded in 1994 to unify Iowa's bioscience industry, academic research institutions and economic development organizations. We represent more than 100 members spanning our state, invested in Iowa and in the biotech industry.
Biotechnology is an important pillar in the Iowa economy. From food and agricultural biotech, to human and animal health and pharmaceutical research and development, to industrial and environmental innovation, to sustainable biofuels and biochemical, enzyme, and protein production, our diverse membership makes a major impact in the state of Iowa and around the world.
MISSION
To elevate, support, advocate for, and connect Iowa's diverse biotechnology member companies, agricultural and life sciences ecosystem, and STEM talent pipeline.
VISION
Our vision is for Iowa to become a premier location for biotechnology organizations to thrive.
Advocacy
We advocate for policies at the state and federal levels that foster a stronger business and research environment for Iowa biotechnology companies.
Collaboration
We create strategic partnerships, enable connections, and foster collaboration among industry professionals, policymakers, researchers, and students to advance biotechnology in Iowa.
Education
We elevate the importance of education and building knowledge and capacity in STEM field. We promote education and training opportunities for our memebrs to retain future generations, and to increase diversity and inclusion in biotech.
Innovation
We support the responsible, ethical, and sustainable development and implementation of cutting-edge biotechnology.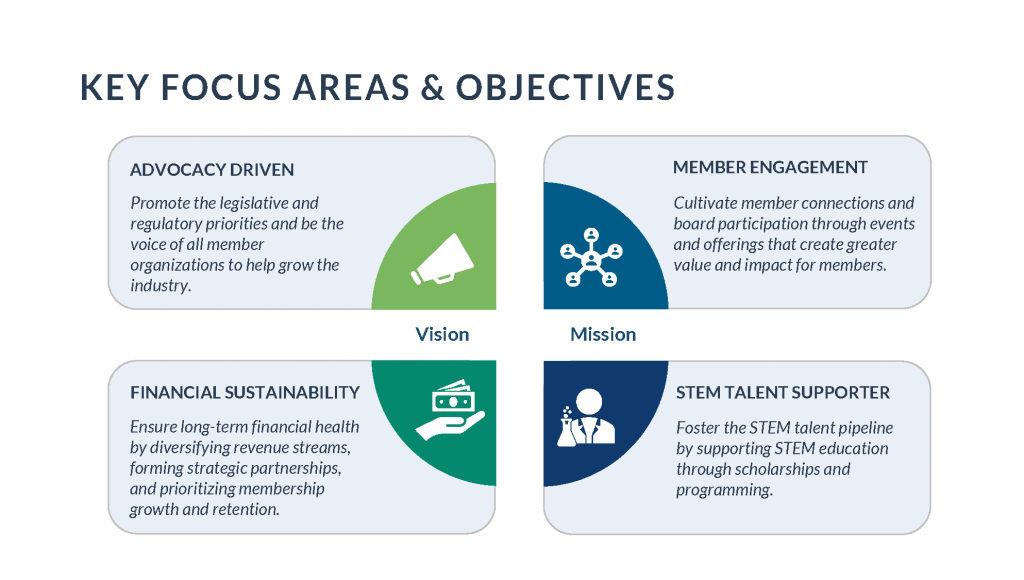 For more information on our member benefits, click here, or contact Executive Director, Jessica Hyland, at jessica@iowabio.org, to learn more.