Future Biotech Leaders Fund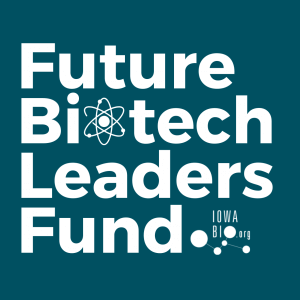 IowaBio is a non-profit organization that seeks to promote the success and growth of biotech-based business in Iowa. We grow our state's strong biotech economy and increase its influence nationally and around the globe.
One of IowaBio's core purposes since its formation has been to foster Iowa's vibrant talent pipeline. Iowa's STEM students are a critical component to fuel our IowaBio member companies with a skilled workforce. Through our support of STEM education, IowaBio creates meaningful partnerships in order to support students, teachers, schools, colleges, and universities through scholarships, stipends, programming and competitions that encourage and enrich STEM education.
In 2021, the Future Biotech Leaders Fund was opened to better support IowaBio's STEM activities. The fund is managed by the Community Foundation of Greater Des  Moines and is used to support IowaBio's efforts to advance STEM across the state, including  through programs such as the BioGENEius Challenge, the State Science and Technology Fair of Iowa, the  Central Campus Scholarship Program, and the Governor's STEM Advisory Council.
Members of the public as well as all IowaBio members are welcome to donate to the Future Biotech Leaders Fund. Donations can be made by companies and organizations or by individuals. Donors will be given visibility of IowaBio's STEM activities that are supported through the fund.
Donors will also receive the following recognition:
Mention of their name on the donors list for the Future Biotech Leaders Fund website if so desired;
Mention of their donation on IowaBio's social media channels (Facebook, LinkedIn, Twitter) if so desired;
Mention of their name as a donor in the Future Biotech Leaders Fund yearly report to be published on the IowaBio website;
Access to personal testimonies provided by beneficiaries of the fund;
Mention of their name as a donor in additional settings as appropriate (at future IowaBio conferences and events, etc).
THANK YOU TO OUR GENEROUS DONORS:
BioGENEius Challenge
Central Campus Scholarships
Drake University STEM Camp
Iowa State University Biotechnology Outreach Education Center Programs
Governor's STEM Advisory Council Programs
State Science and Technology Fair of Iowa Award Scholarships